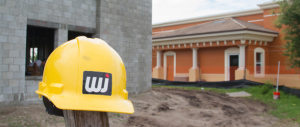 It began as a vision – to create a place for children to explore, learn and discover in a state-of-the-art learning center. Today, it's become a reality.
After moving to Florida from New York, nine years ago, where they owned two children's centers, Devon and Florence Hunter opened the Viera Children's Academy on Viera Boulevard. At the time, there were just two nearby buildings – Space Coast Stadium and Manatee Elementary School. Only seven children were enrolled at first, which grew to slightly more than 50 by the end of the school year. Though it may have seemed small, there was plenty of potential, both for the area surrounding the academy and the business itself.
Now, not only has the area exploded with the development of shopping and housing areas, but last year's enrollment had 221 children, including 98 who graduated from the VPK program. As of mid-July, the center had 201 students enrolled for the upcoming year, and W&J Construction was building a new 5,500-sq.ft. facility that will be adjacent to the 11,000-sq.ft. main building.